Scheduling online assessments can be a challenge. Students don't always have consistent availability or they may live in different time zones. With timed assessments, instructors can choose to send an assessment to students with a set amount of time for them to sit down and complete it before the due date passes. This allows students to access the assessment when it is most convenient for them.
Creating a timed assessment
Create an assigned assessment. Once you get to the Schedule step, check the box beside Set a time limit.
Enter the amount of time students will have to complete the assessment, or choose a pre-determined time from the drop-down menu.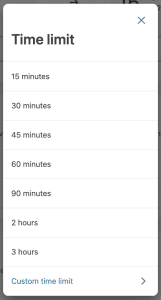 What will students see?
Once the assessment has been distributed, students will receive an email with a link to access the assessment.

When a student clicks on the assessment, they will see a message describing the amount of time they will have to write the assessment, the due date (the latest they can submit on time), and a link to Crowdmark's Help Center to help them prepare.

After the student clicks the Start the assessment now button, the timer will start and the student can view and submit the assessment.
Once a student starts their assessment, the timer runs in realtime. If the student exits and then re-enters the assessment, they'll see the timer has continued to count down. Students cannot pause or restart the assessment.
Students can submit an assessment late (after the timer runs out, or after the due date has passed). However, any lateness penalty you have set will apply beginning when the timer runs out, or when the due date passes (whichever comes first). If a student starts the assessment after the due date, the timer is not applicable and will not be visible.
Students cannot resubmit work after their timer runs out. This means that for timed assessments you do not need to wait until the due date has passed to start grading a submission.